US Update – Rally in Housing Starts
EURUSD, H1
US housing starts surged 19.4% to 1.739 mln in March, much stronger than expected, following the drops of -11.3% to 1.457 mln in February and -1.7% to 1.642 in January. Single family sales jumped 15.3% to 1.238 mln after sliding -6.8% in February to 1.074 mln. Multifamily starts climbed 30.8% to 0.501 mln after plunging -21.8% to 0.383 mln in February. Starts increased strongly in all three of the four regions with a 122.8% pop in the Midwest, a 64.0% gain in the Northeast, a 13.5% rise in the South, and a -13.6% decline in the West. March building permits bounced 2.7% to 1.766 mln following the -8.8% decline to 1.720 mln. Completions increased 16.6% to 1.580 mln from 1.355 mln. Weather distortions played a big role in the February and March swings.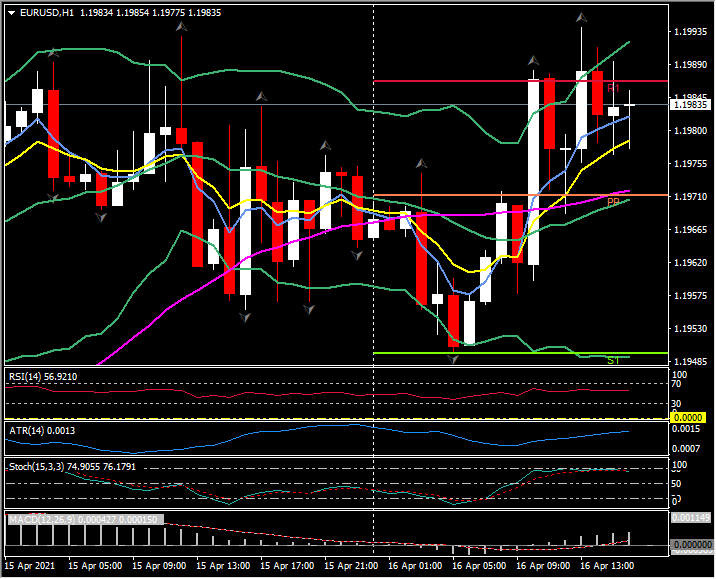 Still to come today the key Michigan Consumer Sentiment index which is expected to increase to 89.2 from 84.9 from last month. Stock markets have opened up at record highs with the USA500 trading at 4186. The Dollar edged slightly higher following the housing starts data, which handily beat expectations. USDJPY moved a few points higher to 108.85, while EURUSD dipped to 1.1980. Gold having touched a February 25 high at $1780 on the cooler yields over the last two days, is back to $1775.
Stuart Cowell
Head Market Analyst
Disclaimer: This material is provided as a general marketing communication for information purposes only and does not constitute an independent investment research. Nothing in this communication contains, or should be considered as containing, an investment advice or an investment recommendation or a solicitation for the purpose of buying or selling of any financial instrument. All information provided is gathered from reputable sources and any information containing an indication of past performance is not a guarantee or reliable indicator of future performance. Users acknowledge that any investment in Leveraged Products is characterized by a certain degree of uncertainty and that any investment of this nature involves a high level of risk for which the users are solely responsible and liable. We assume no liability for any loss arising from any investment made based on the information provided in this communication. This communication must not be reproduced or further distributed without our prior written permission.
Comments are closed