Market Update – 2 April
Market News Today – Q2 kicked off in strong fashion for both bonds and stocks, with trading activity accelerated by the market closures on Good Friday with only Treasuries open for a shortened session to accommodate the jobs report. A delayed month-end bid provides initial support to Treasuries after Wednesday's hefty losses. A disappointing initial claims report sparked additional buying that eventually saw longer dated rates fall over 7 bps to a low of 1.669% on the 10-year and 2.35% on the 30-year. On the other side of the coin, Wall Street had a strong session too, supported by increasing optimism over the recovery amid widening vaccine distribution and more stimulus. A surge in the ISM manufacturing to its highest since 1983 provided an extra spark. The rally took the USA500 up over 1% and through the 4000 level for the first time ever, while the drop in Treasury rates helped lift the USA100 to a better than 1.7% gain. The USA30 rallied 0.5%.
In FX markets, the USDIndex lost ground falling to 92.85, while USDJPY has come under some pressure to 110.40, as has the Dollar generally. Softer Treasury yields likely prompted some position squaring, while the failure to take out the 111.00 level Wednesday and today resulted in some profit taking from the sharp rise seen over the past week or so. The EUR and GBP turned higher but currently soften. Gold and Silver rally, with the first at 1730 and the latter at 24.95.The USOIL spiked to $61.73 after reports that OPEC would leave production levels unchanged through the end of April, then increase production by more than 2 million barrels per day to the market by July.
Many in the market expect demand to outstrip supply beginning in the summer, which may have been behind the rally back to $60.40, following the knee-jerk sell-off. Saudi Arabia will unwind its voluntary cut from May-July.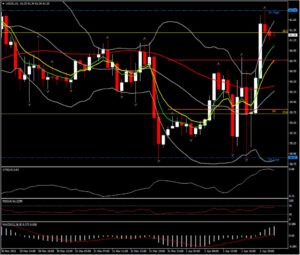 Today – Attention is on US Friday's jobs report.
Biggest (FX) Mover @ (07:30 GMT) USOIL (+3.87%) The asset spiked to 61.73 retesting March Resistance and 38.2% Fib. level from February's decline. Fast MAs are turning right, with RSI flattened and MACD positive but with signal line still at zero. Hence overall intraday neutral picture. H1 ATR 0.83, Daily ATR 2.93.
Andria Pichidi
Market Analyst
Disclaimer: This material is provided as a general marketing communication for information purposes only and does not constitute an independent investment research. Nothing in this communication contains, or should be considered as containing, an investment advice or an investment recommendation or a solicitation for the purpose of buying or selling of any financial instrument. All information provided is gathered from reputable sources and any information containing an indication of past performance is not a guarantee or reliable indicator of future performance. Users acknowledge that any investment in Leveraged Products is characterized by a certain degree of uncertainty and that any investment of this nature involves a high level of risk for which the users are solely responsible and liable. We assume no liability for any loss arising from any investment made based on the information provided in this communication. This communication must not be reproduced or further distributed without our prior written permission.
Comments are closed